About Us
For over two decades the senior team at Wollermann have been assisting business owners and managers successfully expand their business using franchising.
We are 'hands-on' franchising practitioners, not theoretical consultants. We get things done. To achieve the best outcomes for our clients we tailor our franchise development services to suit the size, capability and expectations of our client.
And we get results. Our experience is broad based from retail, home care services, B2B suppliers, through to building products, automotive repairs and hospitality.
At Wollermann Franchise Developments, we offer you a FREE initial assessment – a comprehensive three-hour meeting to objectively assess the potential for franchising success for your business.
Then, if we both agree that your business expansion objectives can be achieved through franchising, we handle everything – from developing the franchise business systems, the legal documentation, the recruitment materials and the manuals to document your operating systems. We then promote your franchise opportunity and appoint your new franchisees.
Our services are all on a fixed fee basis, fully disclosed in advance and made flexible so that you get exactly what you want at an agreed price with no hidden surprises.
The Team
Colin Crawford
National Franchise Manager and Senior Business Broker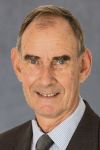 Roger Dickeson
Senior Franchise Consultant